USA! MAURER AIRCRAFT CAMERA 70MM FILM+AERO LENS KODAK EKTAR E. F. L. 3in(76mm)/2.8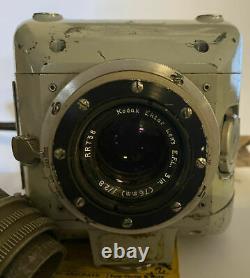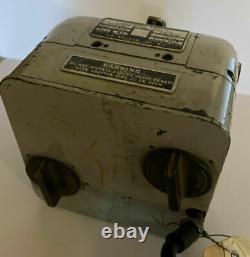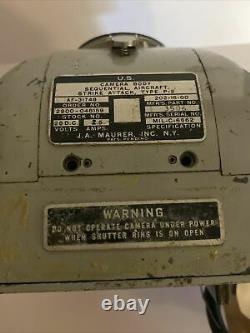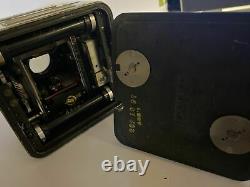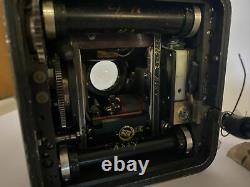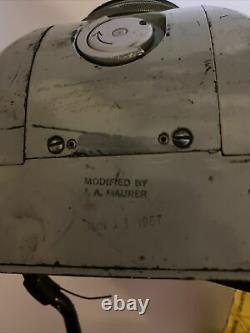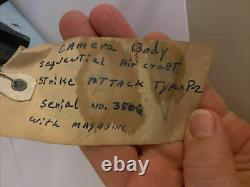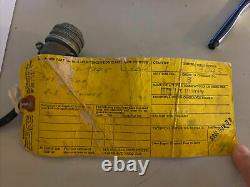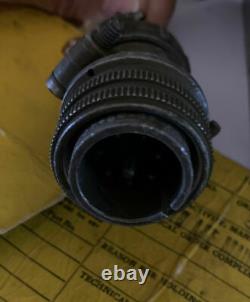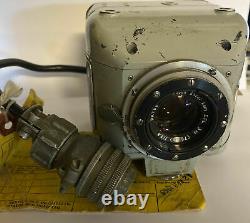 MAURER AIRCRAFT CAMERA 70MM FILM+AERO LENS KODAK EKTAR E. PLEASE REFER TO THE ORIGINAL PHOTOS. PLEASE SEE MY OTHER LENSES:MEYER V OPTIK GORLITZ TRIOPLAN 2.8/100MM VINTAGE CINE LENS, INCORPORATED BALTAR 35MM/F2.3 BAUSCH AND LOMB OPT. MOVIE CAMERA LENS COOKE SUPER!
RARE LENSES CENTURY EYEMO GENERAL SCIENTIFIC MILTAR FOR EFL 35MM-75mm MILITARY CAMERA MOVEMENT ON MILITARY AIRCRAFT OF THE SECOND WORLD WAR EYEMO71K. And RANK TAYLOR-HOBSON COOKE SPEED PANCHRO 75MM/2.3 SERIE2 Mount ARRIFLEX, HUGO MEYER GORLITZ PRIMOTAR 13.5CM/3.5 MOUNT OTUS/ELCAN/PRIMARFLEX, SANS STREIFFE 10.5CM/2.8, CARL MEYER BURKE JAMES 85MM/1.5/ULTRA MICRO NIKKOR 1: 1,8 F = 50 n M = 1 / 5H NIPPON KOGAKU HIGH RESOLUTION/DEBRIE AND ROYER CAMERA ANGENIEUX X1 100MM/3.5/.
AERO LENS COVOGON EFL 12INCH(304MM)/4.0 GENERAL SCIENTIFIC CORP. VINTAGE LENS KODAK EKTAR 80MM/2.8 EASTMAN ROCHESTER FOR HASSELBLAD 1000F/1600. ENNALYT 2.8/100MM ENNA MUNCHEN. MOUNT M42 FUJICA /Antique GOERZ Double Anastigmat Series III, No.
GOLD SUPER SPEED RARE LENS DALLMEYER ANASTIGMAT 1.5/50MM(2 inch) MOUNT LEICA M39/. KIPRO-ANASTIGMAT 1.9/9CM(90MM) CARL ZEISS JENA VINTAGE CINE PROJECTION LENS/SPEED LENS WOLLENSAK 5.5 INCH/1.5 SERIAL E37012 FOR GRAFLEX GRAPHIC 45.
NEAR MINT LENS COOKE SPEED PANCHRO 75mm/T2.0 SERII RANK TAYLOR-HOBSON ENGLAND MOUNT MITCHELL SPEED LENS Nippon Kogaku Nikkor-S. C 85mm F/1.5, JAPAN, MOUNT CONTAX RF-NIKON S/OPTIS PARIS VINTAGE PORTRAIT OTUS CARL ZEISS SONNAR LENS PICON 2.8/135MM PIESKER BERLIN WEST-GERMANY MOUNT EXA/EXAKTA/EXACTA/RARE CINE LENS CENTURY 150MM/2.8 INETEL II TF-6 U. MOUNT (25MM)kinoptik arriflex sigma art 35 BOLEX AND PAILLARD CAMERA. Bolex, KERN/ANTIQUE/AERO EKTAR/ Paillard, Beaulieu, Miltar, Wollensak fastax. CARL MEYER BURKE JAMES 85MM/1.5.
Boyer saphir 90mm/BRASS LENS SOM BERTHIOT PARIS FLOR 3.5/180MM, HASSELBLAD V/M65/PENTAX/NIKON/CANON EOS/HASSELBLAD V-100F/PHASE ONE/GRAFLEX/GRAPHIC 45/WOLLENSAK RAPTAR 85MM/1.5 SUPER SPEED COATED CINE/LENS HYPAR 3.5/F=300MM C. OPTIS PARIS ANASTIGMAT 4.5/240MM FOR MEDIUM FORMAT. GOERZ INGENTO ANASTIGMAT LARGE FORMAT 810 BURKE and JAMES CHICAGO OPTIS/. TRIOPLAN 2.9/7.5CM(75MM) MEYER GORLITZ MOUNT 39MM LENS BOKEH.
SCHNAIDER-KREUZNACH XENON 1.9/50MM EXAKTA/. GOERZ APOGOR 2 INCH(50MM)/F:2.3 CINE MOVIE.
F2.8/135MM, BIOTAR 58/ VINTAGE CINE DR. RUDOLPH HUGO MEYER GORLITZ KINO PLASMAT 1.5/1INCH(25MM) NEW YORK NICKEL LENS MOUNT , BOLEX AND PAILLARD.
TELE-MEGOR HUGO MEYER GORLITZ 3INCH/F=4.0. 6 INCH(150MM)/F=2.2. SCREW 45MM/BIOTAR CARL/ STEINHEIL MUNCHEN SUPER-OSCILLO-QUINON LENS 1.2/80MM PRONTOR. CAMERA ZEISS IKON BOBETTE II 548 w LENS ERNOSTAR /WOLLENSAK /. LARGE FORMAT OSCILLO-QUINON 1.9/75MM STEINHEIL MUNCHEN.
CONTAX/KOMURA 100MM/1.8 SANKYO KOHKI M42+NIKON F/. HUGO MEYER PRIMOTAR 3.5/18CM LENS GORLITZ BRASS-NICKEL PRIMARFLEX+HOOD/. TILT-SHIFT Vario-Flex II 65mm/6.8 Angulon Schneider Kreuznach/VINTAGE FILM MOVIE CINE CAMERA PAILLARD BOLEX H8+3 LENS:DALLMEYER 2INCN(50MM)/1.9, YVAR 13MM/1.8+YVAR 36MM/2.8. RAPTAR/2.0/F=4.2CM(42MM)MILTAR EFL/.
SUPER TV CINE LENS ORTAL 5INCH=127MM/2.8 RANK TAYLOR HOBSON ENGLAND/panchro cooke speed/BETAX 3 SHUTTER/PRESS/ALPHAX/BABY/POLAROID/TESSAR/KODAK EKTAR 50. VINTAGE SOCIETE FRANCAISE ANDRE DEBRIE "SEPT" FILM CAMERA CONSTRUIT PARLES ETABLISSEMENTS , ANASTIGMAT LENS "OPTIS".
Kodak aero ektar 153mm 6 inch/F=50MM/3.5/FRANCE LENS X1 P. ANGENIEUX F=100MM/3.5 PARIS/MOVIAR CARL MEYER 0.95/1INCH/C MOUNT/WOLLENSAK FASTAX-RAPTAR 50MM/2.0/kodak ektar 80mm/.
KOMURA SANKYO KOHKI(ERNOSTAR) 100MM/1.8 MOUNT NIKON(+M42), KINOPTIK 1.3(ADAPTER M42) KILFITT/Fastax-raptar 50mm/2.0,101mm/3.5,35mm/2.0. THANK YOU FOR WATCHING ME!
MAURER AIRCRAFT CAMERA 70MM FILM+AERO LENS KODAK EKTAR E. 3in(76mm)/2.8" is in sale since Sunday, June 20, 2021. This item is in the category "Cameras & Photo\Lenses & Filters\Lenses".
The seller is "e-on-lens-seller" and is located in Murmansk. This item can be shipped worldwide.
Model: aircraft
Country/Region of Manufacture: United States
Compatible Brand: PENTAX M42
Focal Length: MM
Maximum Aperture: f/2.8
Series: AIRCRAFT STRIKE
Type: Apochromatic
Exterior Material: Brass
Modified Item: No
Camera Type: DSLR
Camera Technology: Analog & Digital
Focus Type: Manual
Brand: MAURER
Mount: KODAK

---