Canon A-1 w Canon FD 50mm 1.8 Lens 35mm Film Camera Tested, Working, Read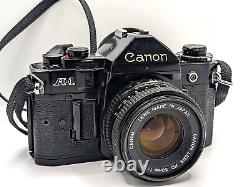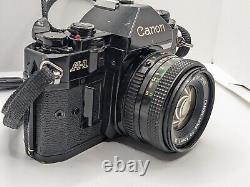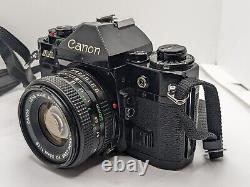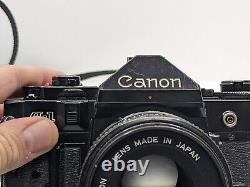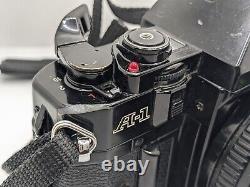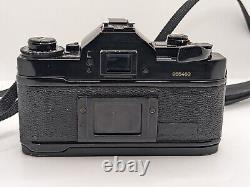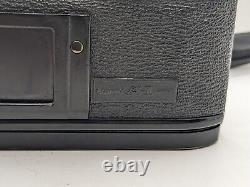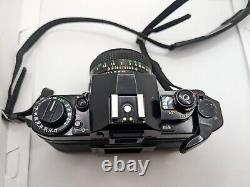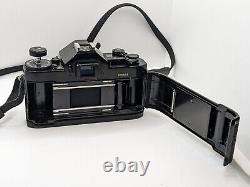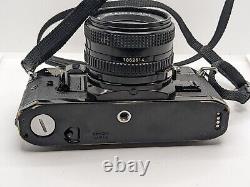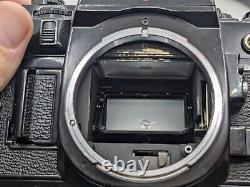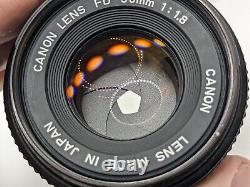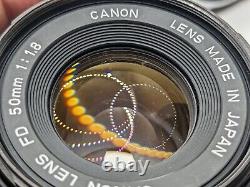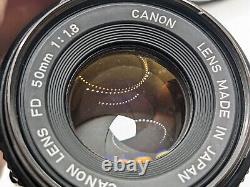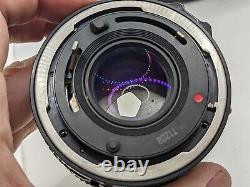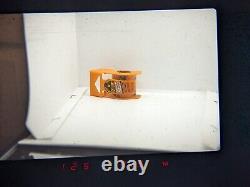 Canon A1 SLR Film Camera Body. Canon FD 50mm 1.8 Lens. The camera is in great working order with a few minor issues that don't affect function. The battery door has a broken-off corner near the latch.
Still latches, just needs to be treated with care. The lens has some faint marks on the front element, possible coating scuffs or something. Realistically will not at all affect image quality; MAYBE in extreme lighting conditions. As with virtually all cameras this age, the light seals will need to be replaced. The camera has bits of cosmetic wear throughout, but is in generally nice shape.
Lens: Some light marks as noted above. Clear of fungus, haze, or other major defects. May have minor dust, which would not affect image quality. Diaphragm is clean and operates as expected.
Shutter and Speeds: The shutter fires as expected and speeds appear to adjust up and down in accordance with the camera settings. Light Meter: Seems to react properly to changes in light and camera settings. Mirror: There may be light dust, marks, or other artifacts, but looks pretty clean to me; no major defects. Viewfinder: The viewfinder has some fuzz and dust here and there, but is overall clear with indicators present and operating. Film: Winds and advances properly, film door latches properly.
Tested with dummy roll, no film was developed. While I can't guarantee your film will develop, all mechanisms appear to be working as intended.
Light Seals: Like most cameras this age, the light seals will need to be replaced. Battery Compartment: The battery compartment on this camera is clean and free of corrosion with a working battery door (defect as noted up top). The camera takes 1x 4LR44 battery, which is not included.
Other Features: Largely untested and no guarantees on anything except as stated above. There's no immediately apparent reason anything wouldn't work. Exterior: Despite some a cosmetic blemish here or there, this camera is in good overall condition and presents well. The camera has been cleaned with a little love! Other Items Included: Includes a simple Canon-branded strap.

---