BOLEX H16 REX-5 16MM Film Camera + 25mm Lens + Change Bag + Case, Clean Working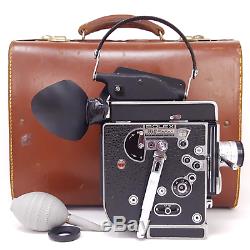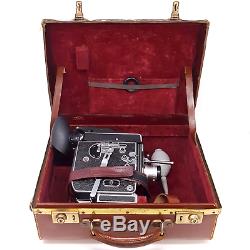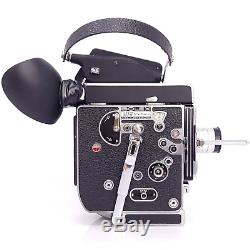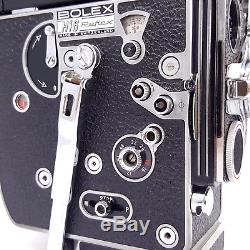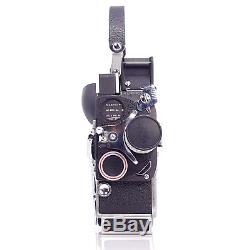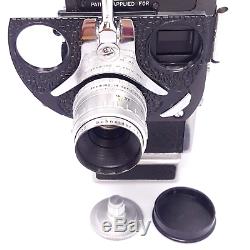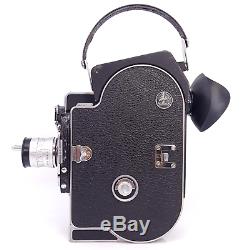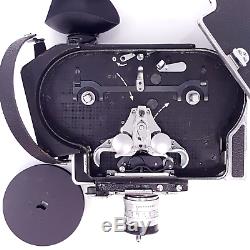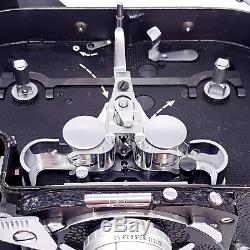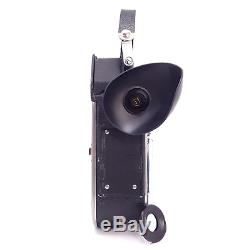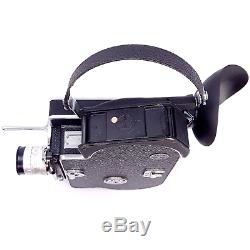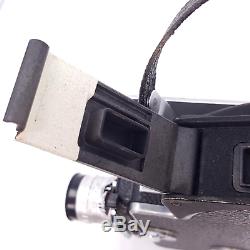 For sale, a Bolex H16 REX-5 16mm film camera. Also included: a f/1.9 25mm lens , a Eedee hard case , a lens blower , and a film change bag (not pictured). Serial # 235098 is clean, working, and successfully recorded a short film (search for Reveries and Rocketships on YouTube). A new rubber eyepiece has been added onto the viewfinder, with the original eyepiece included. A metal take-up spool is also included.
This model can accept 400' film magazines by opening the plate of the saddle. This plate has a hairline crack that has been covered by camera tape (inside the lid, as pictured). Lens includes the original lens cover. The Eedee hard case is sturdy, plush-lined, and features two metal latches (key not included). The film change bag is newly washed, with some paint marks.
More information about the Bolex H-16 REX-5 16mm Camera (from BolexCollector. OVERALL DIMENSIONS: 9" x 6" x 3. Approximately 8 1/2 lbs with magazine. OUTER CASE: Highly polished duraluminium body, covered in genuine Morocco leather. FILM CAPACITY: 100ft (30m) daylight loading spools of 16mm film.
Saddle accepts 400ft (120m) magazine. THREADING: Automatic threading and loop forming. The end of the film is simply placed in a channel leading to the feed sprocket.
The release is pressed and the film is then automatically threaded throughout the entire mechanism. MOTOR: Constant speed, spring motor mechanism; governor controlled. Large winding handle folds downward and attaches to camera when not in use. 8:1 and 1:1 external drive shaft permits the attachment of an electric motor. TURRET: Rotating turret with folding lever; Accommodates three interchangeable RX type C mount lenses; Built-in turret lock lever.
VIEWFINDER: 10x magnification; Reflex viewing with semi-reflecting prism system; Groundglass focusing; Adjustable to eyesight. The camera comes equipped with an Octometer viewfinder.
FILTER SLOT: Built-in slot holds a gelatin filter behind the taking lens and in front of the shutter. VARIABLE SPEED: 12, 16, 18, 24, 32, 48 and 64 frames per second. Bolex 400ft MagazineRELEASE BUTTON: provides for the making of continuous exposures by a finger-tip release on the front of the camera.
A side release allows for locked, hands-free running or single frame exposures. VARIABLE SHUTTER: 133 degree variable shutter; Operated manually to decrease exposure time, or with accessory Rexofader to accomplish fade-ins and fade-outs. This mechanism may be disengaged, if desired, by simply moving a lever. FRAME COUNTER: Twin dial counts frames individually and in total; Adds frames in forward motion and subtracts when film is wound backwards.
Dial may be reset manually at any time. SINGLE FRAME: Time lapse and animation is possible by using the side release button or an accessory cable release and adapter; I-T lever allows for timed or instantaneous single exposures. MANUAL REWIND: Clutch disengages spring motor and permits forward movement and backwind without running down the spring; allows for dissolves and superimposition.
FLAT BASE: Contains three tripod sockets: Two 3/8" thread and one 1/4" thread. Front of the base is removable for easy mounting of the Bolex Matte Box. A built-in saddle to allow the attachment of 400' magazines appeared on the H-16 REX in 1967. In addition, the H-16 REX-5 incorporated the latest improvements of previous cameras H model cameras, such as the flat base, both 8:1 and 1:1 drive shafts and time control knob (as opposed to the older lever-style). The trailing number "5" was used to identify H model camera bodies with the built-in 400' magazine saddle. The 400' capacity magazine could be quickly attached and removed from the saddle mount by a locking hinge. A plate covered the channel opening on the saddle and allowed the Rex-5 to be used as a 100' capacity camera without the magazine. The magazine was driven by small DC motor attached to the takeup on the outside of the magazine and connected to either the MST motor or a voltage regulator (used in conjunction with the Unimotor B). Although the REX-5 was not introduced until 1967, a 400' magazine modification to H-16 cameras (with flat base and 1:1 shaft) was promised to be available by Fall of 1965.
Descriptions of this early design suggested it would be possible to operate the magazine with either electric or spring driven motor. [1] However, the REX-5 was ultimately designed to transport film in the 400' magazine with a motor only. The item "BOLEX H16 REX-5 16MM Film Camera + 25mm Lens + Change Bag + Case, Clean Working" is in sale since Saturday, July 6, 2019.
This item is in the category "Cameras & Photo\Vintage Movie & Photography\Vintage Cameras\Movie Cameras". The seller is "hwoo1" and is located in Coquitlam.
This item can be shipped worldwide.
Brand: Bolex
Modified Item: No
Type: Reflex
Color: Black
Film Format: 16mm

---